May 15 – Clean-a-thon
Mag 13th, 2010 | di
administrator
| Categoria:
RetakeRome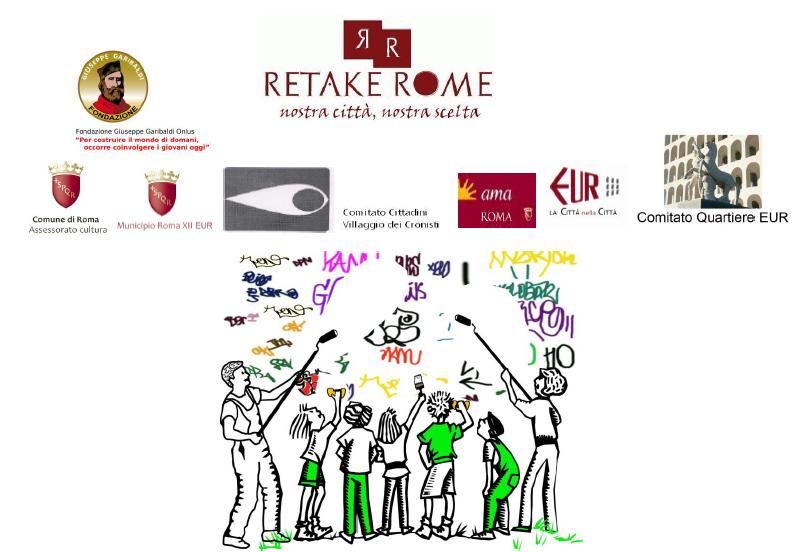 Retake Rome Neighborhood Clean-a-thon
Come one and all!  Let's clean that wall!
  Double Venue on Saturday, May 15th, 2010
Meeting points:
      10:00 Piazza di Saxa Rubra (Prima Porta)
14:00 Piazzale Ss. Pietro e Paolo (Eur)
HERE'S THE PLAN:  We're out to remove the vandalistic tagging, spray paint, stickers, litter –  everything illegal that is dirty&ugly and defacing our neighborhoods.
Civic responsibility made fun & educational for residents of ALL ages!
For  further information and to confirm your participation
Emails: retakerome@aim.com and info@comitatoeur.org  (kindly use both email addresses)
Tel. (Piazzale SS. Pietro e Paolo, Eur) 333 6274922 / 347 6062185 / 338 8598449
Tel.  (Piazza di Saxa Rubra, Prima Porta) 349 2120326 / 338 36366464
RETAKE ROME is a grassroots, non-profit, apolitical, non-sectarian movement, born of civic responsibility by citizens & residents of Rome who "speak-up and clean-up" while exchanging/practicing second languages. This volunteer organization operates under the auspices of the Fondazione Giuseppe Garibaldi ONLUS.
For subscription to the RetakeRome mailing list: https://www.fondazionegaribaldi.it/retake-rome/iscrizione-mailing-list-retakerome
(ONLY in case of rain will this event be postponed to Saturday, 22 May – same time same place)